Off the light vehicle VDU type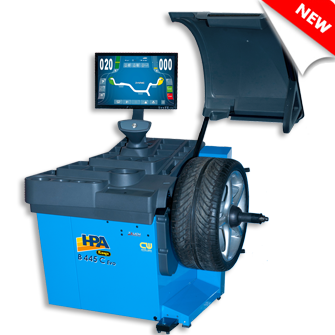 Touchscreen &  Contact-Less  wheel balancer ideal for tyre assistance centres , dealerships, workshops and car manufacturers dealing with large volumes . 
22" Widescreen "Touchscreen"   colour VDU.  
Full Matic : no manual operations are required of the operator. Reduced spin time and diagnostic time.
New  "ELECTROLOCK"  automatic electromechanical wheel clamping system for shorter operative times and higher centering accuracy.
Automatic measurement of wheel dimensions by combined LASER and SONAR sensors ( Contact-Less  system ) .  
LED light and LASER Pointer ( TwinLight System ).  
Automatic detect of "Run-Out" wobble of the wheel (optional).  
ALU P programs.  
TYRE SET CONTROL  new program : a special vehicle tyre set diagnostic tool.