"LEVER-LESS Technology" Universal type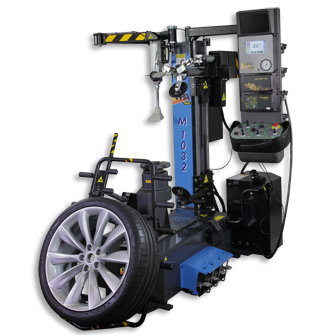 Innovative super-automatic  tyre-changer hydraulically driven  for rims from 13" up to 32" .
Ideal for low profile,  "UHP"  and  "Run Flat"  tyres  (WDK Approved). 
 "LEVER-LESS" &  CONTACT-LESS Technologies.
Axial mounting turntable electromechanical intelligence with hydraulic (Patented) axial movement. 
Cabinet control panel, can be placed in the most ergonomic position.
Two speed motor with  "IP" system  (Increased Power System) .
Wheel lifting device  available in  STANDARD  side version (S.L.) , or in  PREMIUM  frontal version with comple-movement ascent and descent   (P.L.) . 
Bead-presser supplied as standard in all versions . 
Available in following versions : STD  (S.L.  and  P.L.)  - SILVER (S.L. and P.L.) - GOLD  (S.L. and P.L.)  - DIAMOND  A .
STD P.L., SILVER P.L. and DIAMOND  A  versions are supplied as standard with PREMIUM frontal wheel lifter (P.L.) and bead breaking / demounting FULL AUTOMATIC CYCLE.